KruThonglor Yalae (Thong Chuechaiya)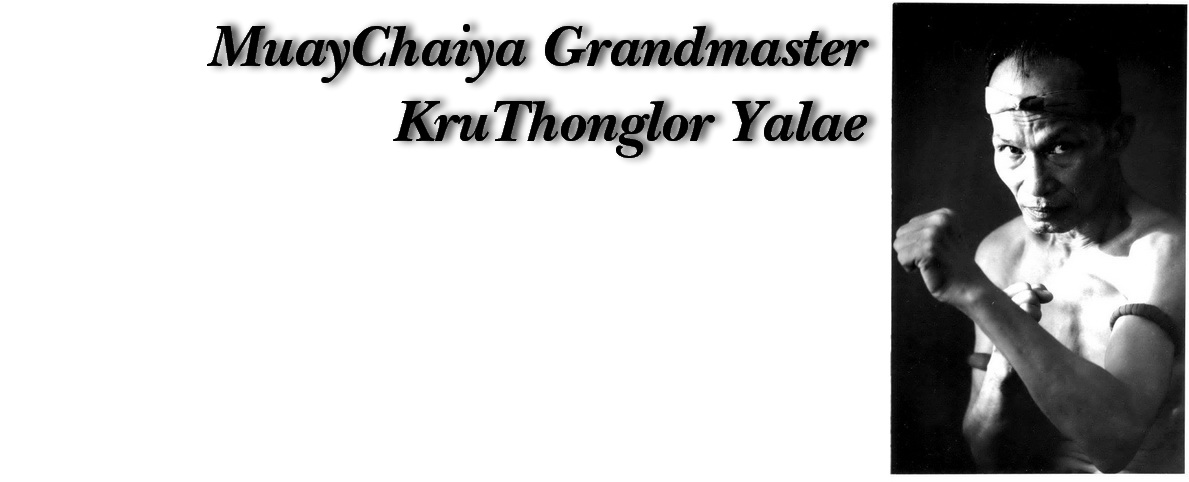 KruThong was born on August 1st, 1929 at Siriraj Hospitcal in Bangkok.
When in grade six, with the interest in martial art KruThong started studying boxing from KruPrasith, boxer of Department of Physical Education, at Watthanasilp Pratunam school.
When he was 13-14 years old, he seriously searched for a Muaythai school. He went to many Muaythai schools, but did not satisfy any of them. This was because the training in those schools did not focus on protection and caused injuries to trainees. Thus, he chose to practice Muaythai in the gym of Palam, a relative of other, in Soi Kingpetch. There he was trained by KruChan Samitawetch and KruChai Sitthipol.
However, KruThong could not study there for long since Kru Thong had small and slim body. So, he was bullied frequently by the biggers in the gym.
Once gratuated, KruThong spent his life like the man in that age, full of fight and adventure. During that time, he worked in State railway of Thailand at Makkasan and got a chance to know a friend of his father, KruSamsien. KruSamsien talked about Muaythai and brought KruThong to meet with KruKetr, a master of MuayChaiya. Since then KruThong studied MuayChaiya from KruKetr and that was the beginning of the MauyChaiya legend of KruThong.
After studying MuayChaiya for several months, KruThong, who was now 16 years old, would like to fight on stage like other senier trainees and he asked KruKetr for permission. KruKetr considered KruThong skill and believed it was enough for a fight. KruKetr therefore suggested KruThong to fit his body well and KruKetr would send him to a competition. However, not telling KruKetr, KruThong attended many fights in upcontry. He won more than lost and even beat the famous Thaiboxer called Padrew Tiger at Chacherngsao. KruKetr heard the news then brought KruThong to fight in Bangkok.
The first official fight of KruThong in Bangkok was held at Rajadamnern stadium. Due to excitement of big stage, he lost to Somchai Phrakhanchai on his first fight. He  would like to have a rematch, but was denied by the opponent. KruThong stopped fighting on stage when he was 24 to fulfill the wish of his grand mother, who was resiously sick. He promised to the grand mother that he would no longer fight on stage, but would not stop practicing MuayChaiya.
KruThong had learned MuayChaiya from KruKetr for many years until KruKetr brought him to the headmaster, Ajarn Kimseng Thaweesit. Ajarn Kimseng once asked KruThong to  practice wooden swords. Ajarn Kimsend suggested that figthing with swords is similar to boxing. After having a spare fight for a while, Ajarn Kimseng told KruThong that his swords skill was already good. Therefore, KruThong did not get a chance to study swords from Ajarn Kimseng. KruThong later told his disciples he regreted the missed chance, but in disciples opinion, KruThong had quite amount of knowledge in weaponry martial art. After KruThong had learned MuayChaiya from Ajarn Kimseng for about three years, Ajarn Kimseng passed away.
KruThong then turned himself to be a Muaythai teacher. KruThong helped his friend named Wai teach Muaythai in Ratburana district, and was more serious in teaching Muaythai when we moved to Bangna district. At that time, there were so many marines would like to study with him. Thus, KruThong went to meet KruKetr asking for permission to become a Muaychaiya teacher. Right after finish his words, KruKetr kicked KruThong. KruThong could defense that surprise attack. KruKetr then confirmed that KruThong could be a teacher, and taught KruThong teching techniques.
KruThong founded boxing gym called "Srisakul" and then changed to "Singthongdam". However, the new name was still duplicated with another gym. Therefore, KruThong consulted KruKetr for a new name and was given the blessing name of "Chaiyarat". This name was adaped from "Chuechaiya", which was the on-stage family designation of all KruKetr's disciples. There were many generations of KruThong disciple. Each generation was trained differently. Some were trained boxing and some were trained Muaythai, depending on disciples demand and circumstances.
In 1983, KruThong went to demonstrated Muaychaiya at Sapanpanfa branch of Bangkok Bank. There he met with the martial art club of Ramkhamhaeng univeristy and the club members became his disciples. In the beginning the teaching was conducted at KruThong's home. Later, KruThong was invited to teach Muaychaiya in the university. At that time, KruThong taught the club members in the ancient way because he saw that the movement concept of weaponry martial art was the same as Muaychaiya.
In 1984, the Chulalongkorn university student, who practiced Thai swords in Ramkhamhaeng university, invited KruThong to be a special instructor at Chulalongkorn university. Thus, KruThong got chances to passed his invaluable knowledge of Muaychaiya to the students of both famous universities. KruThong stopped teaching in 1994 because of lung cancer, and passed away when he was 67 on September 19, 1996 at 8.45 am.